Will a Turbo Trainer Work With a Carbon Bike?
Indoor cycling is becoming more and more popular, allowing us to continue with our training during the winter months and bad weather, but these kinds of trainers can put a different kind of stress on our bikes than the road does, and is something to be aware of, especially if you own a carbon bike.
There is no reason why you can't put your carbon bike on a trainer, but some manufacturers do not recommend it due to the risks it carries such as corrosion, stress, damage and fatigue, as the bike is being held in a vertical position with the rear wheel locked, allowing for less side to side movement as you cycle.
We have put together a list of the common problems that can occur when using a carbon bike on a turbo trainer and how to prevent them from happening, so as if you decide to use your carbon bike on a trainer, you can do so in the safest way possible.
Common Issues With Turbo Trainers & Carbon Bikes
Carbon fibre bikes are very strong and lightweight, but take on a different load with different parts of the bike when used on a turbo trainer, on the road, these bikes have more flexibility and side-to-side movement, however when locked onto a trainer, using the bike with sprints and saddle lifts could put a lot of strain on the bike.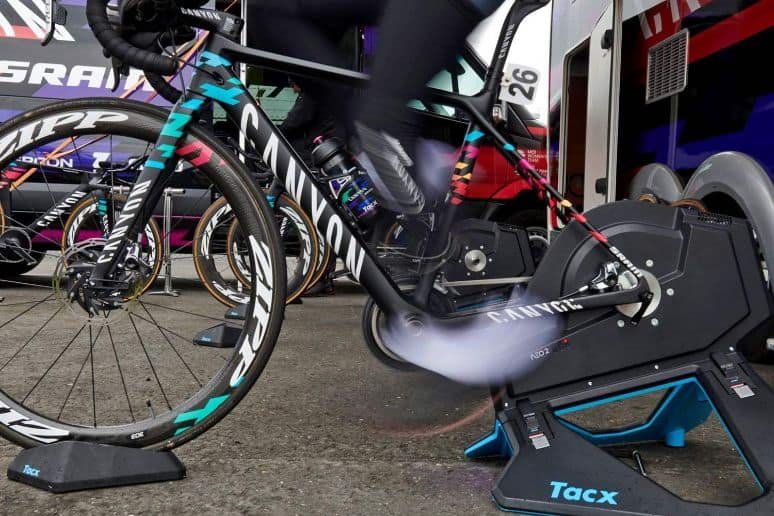 To avoid damaging your expensive carbon bike, you might want to think about swapping it out for a cheaper aluminium one, but even then, this metal bike will still be subjected to a different load, just less of a cost to worry about if damage does occur.
We have listed out the problems that could happen when putting a carbon bike on a trainer and how to stop them below.
It Could Damage The Frame
Using a carbon bike on a turbo trainer could potentially damage the frame of your bike unless you have a turbo trainer which allows for a little side to side movement.
If your bike is being used in a trainer which doesn't have the flexibility and locks your bike firmly in place, then you are putting a lot more stress bottom bracket and seat stays of your bike which the frame isn't used to. All this force on the bike, especially from the saddle movements can potentially wear out parts quickly on your carbon bike and cause damage.
Solution
To help prevent the wear down of your carbon bike on a turbo trainer, you could try finding a trainer which allows for more side to side movement, meaning you take less force off the back of your bike, or, use a carbon bike which is turbo trainer approved. Also never overtighten your bike and try to avoid out of saddle movements and sprints which would put more force on the carbon bike while it is locked in place.
Corrosion Can Occur
One of the next issues that can happen when putting a carbon bike on a turbo trainer is corrosion. Corrosion can occur when you sweat on your bike, which is something that will happen when you work out on your trainer, no matter how many fans you put on or windows you open.
The salt or electrolytes in your sweat can react with the carbon and metal parts of your bike, causing this corrosion and damage to occur over time, this is more likely to happen on areas of your bike such as the handlebars and shift levers.
Solution
To stop your sweat from ruining your carbon bike, you can place a towel over the handlebars while you use it and make sure to give it a good wipe down after each session, there are also some accessories you could buy for your bike to cover the important parts from coming in contact with sweat such as 'sweat nets'.
Sweat nets can be brought for your bike and velcro around the seat post and handlebars of your bike, protecting it from sweat, you can even buy nets that have pockets for your phone too.
Your Bike May Be Subject To More Wear
Some parts of your carbon bike might start to wear down more quickly than they would when you take your bike out onto the road.
For example, no freewheeling is happening with your bike, meaning it is in constant use the whole time, this can put more wear on your gears as they are turning the whole time rather than having breaks, the drivetrain of your carbon bike may also get worn down quickly due to sweat and force, meaning you need to make sure that it stays clean and lubricated.
The tyre of your carbon bike is also important, if you use a normal tyre with your trainer it will wear down quickly and even slip off due to it rubbing against the roller of your trainer constantly.
Solution
To help stop wear on your bike, make sure parts of the bike stay lubricated like the drivetrain and use specific special turbo trainer tyres for your bike to save you money and keep your road bike tyres in good condition.
Components Could Get Damaged
Tightening your bike too much to the trainer can result in cracks and strain in the carbon frame of your bike, the skewer from the wheel of your bike additionally needs to be secure otherwise your bike could fall out or slip from the trainer.
Different cassette ratios on a direct drive trainer likewise have the potential to ruin the rear mech of your carbon bike.
Solution
Use the same cassette ratios if you are using a direct driver trainer and never overtighten the frame of your carbon bike. Also, make sure the skewer is secure and ensure that the frame of your carbon bike is attached with a quick-release or thru-axle.
Can I Use An Aluminium Bike With a Turbo Trainer?
If you have read the risks above and decided you don't want to risk using your carbon bike with a turbo trainer, then you might be wondering if it's safe to use an aluminium bike instead. Well, technically carbon fibre bike frames are meant to hold up better to intense use, so no, an aluminium frame will still carry the same risks as a carbon bike would when used with a turbo trainer.
The only difference is, aluminium bikes are cheaper than carbon fibre, meaning, if damage does occur with your trainer, you can get it fixed easily and not have a huge price to pay.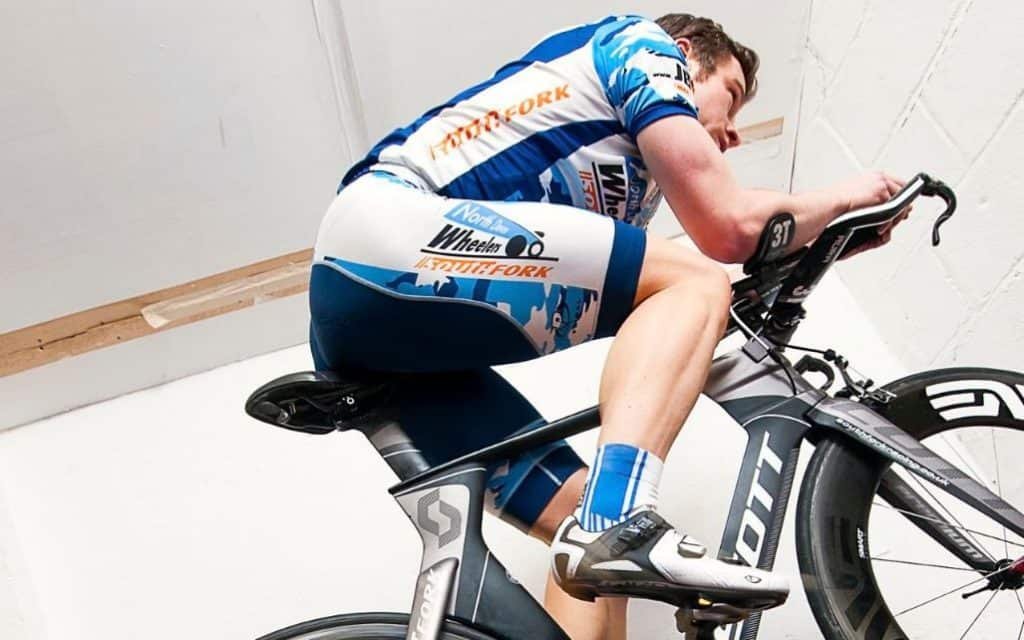 Frequently Asked Questions About Using a Carbon Bike With a Turbo Trainer
What is the best kind of trainer to use with carbon bikes?
We would have to say rollers, roller trainers mean you don't have to lock your rear wheel in place, allowing less stress to occur on your bike's frame when riding, however, rollers do take some balance practice and are best for advanced riders.
How can I stop flat spots from happening on my bike's tyres from daily use with the trainer?
Flat spots can occur on the tyre of your bike even if they are special turbo trainer tyres due to them having one spot of pressure constantly. Ways to help this is by disengaging the rear roller from the rear tyre after use to allow it time to breathe and move the front tyre 1/4 of a turn before use.
This should even out the wear on your tyres.
What's the alternative to using a carbon frame on a turbo trainer?
The alternative to using a carbon frame is using a cheap aluminium one instead, parts such as handlebars are much cheaper to replace on these bikes and less of a price to pay if they get worn down.
Final Words
To conclude, you can use a carbon bike on a turbo trainer, but it does come with its risks, using the solutions above should help control the amount of wear and stop the damage from ruining your carbon bike.
You should always consider using a trainer which allows for more side to side movement to reduce the stress on the frame of your bike, or using a cheap metal framed bike instead of your carbon one.