Product
Wahoo
Tacx
Resistance
Electromagnetic Resistance
Wahoo
Product
Resistance
Electromagnetic Resistance
Tacx
Product
Wahoo Kickr Vs Tacx Neo – The Best Turbo Trainer
When it comes to choosing the best turbo trainer, there really are hundreds of different models to choose from and all of them offer something completely different. There are some brands out there that are well known and reputable, so a lot of people will be interested in them.
The two models that a lot of cyclists seem to find themselves struggling to choose between are the Wahoo Kickr and the Tacx Neo. In order to help you choose the right model out of the two for you, we have tested and reviewed both so that you can compare them and see which is best for you.
Please read on below for our verdict on Wahoo Kickr Vs Tacx Neo.
The Wahoo Kickr Review
Features: 4.6kg Flywheel – 12% Incline – Electromagnetic Resistance – 113.40kg Maximum Weight – Measures Speed, Distance & Power – Bluetooth – 60 x 40 x 40 cm – 21kg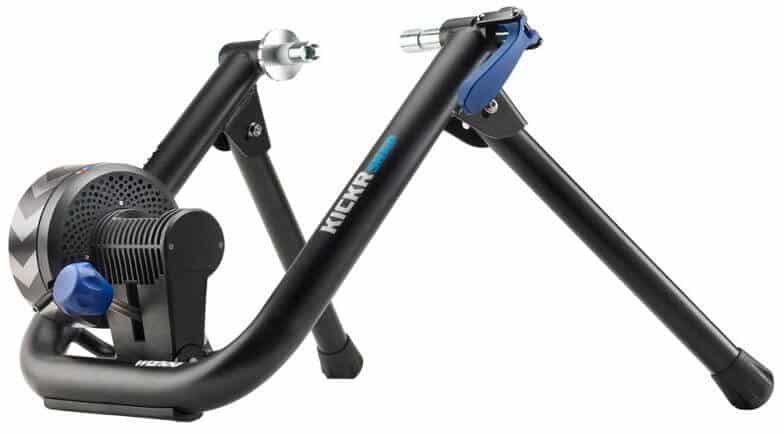 Pros:
Very simple and straightforward assembly process.
A heavy flywheel gives a realistic ride feel.
Compatible with third party cycling apps.
Quiet when in use.
Great value for money.
Cons:
The frame vibrates a little at higher speeds.
The Android app needs to be improved.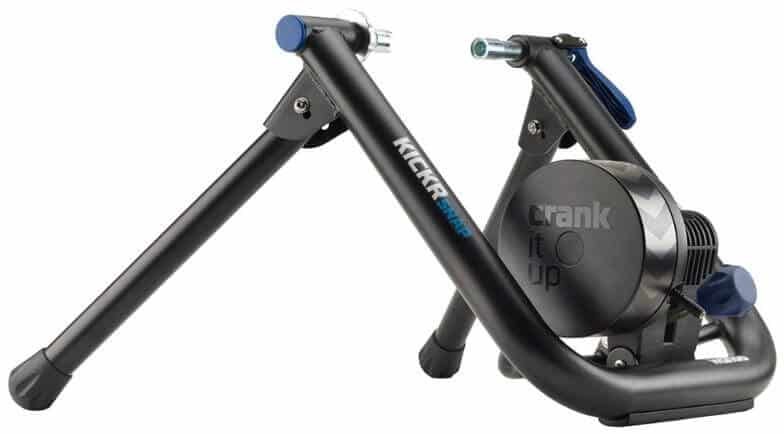 The Wahoo Kickr Review
Out of all of the different turbo trainers that we have tested over the months, one of the models that really impressed us was the Wahoo Kickr. To start off with, we were very impressed with the quality of the frame materials.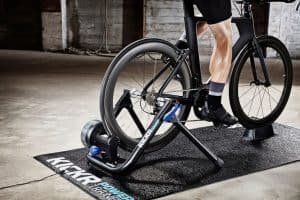 You can definitely tell that it has been made to be durable. What we really liked was that the assembly process is incredibly straightforward; we had everything put together and set up within a very short amount of time.
When it came to riding on the Whaoo Kickr Turbo Trainer, one of the things that really impressed us was the realistic ride feel. This is because of the heavy flywheel that comes with this trainer. We were also really surprised by how quiet the trainer is.
We did notice that the trainer seems to vibrate a little when cycling at higher speeds which can be a bit distracting but it isn't a huge issue. We definitely felt that the trainer offers great value for money so we would certainly recommend it.
You can read more about the Wahoo Kickr here.

The Tacx Neo Review
Features: 2200w Maximum Resistance – 25% Maximum Incline – Bluetooth – 62 x 26 x 44 cm – 22.5kg
Pros:
The frame is very high quality.
There is no external power required.
It tilts left and right for a more natural feel.
It is compatible with third party cycling apps. 
It has a maximum 25% incline.
Cons;
The app isn't great and could do with some improvement.
The Tacx Neo Review
To start off with, we wanted to take a good look at the quality of the frame of this turbo trainer. We have to say that we really were impressed. It is made from incredibly robust and high quality materials that have definitely been well designed.
One of the things that we preferred with the Tacx Neo is that there is no requirement for external power like there is with the Wahoo Kickr which is definitely a huge plus point. When it came to using this turbo trainer, there were several points that we really liked.
First of all, there was the fact that the trainer tilts both left and right for a more realistic ride feel which we found far better. This model is also compatible with third party cycling apps. We also really liked the 25% incline with this one.
The only real downsides with this turbo trainer is that it is far more expensive and the app isn't very good at all. However, the benefits far outweigh these points.
If you want to find out more about the Tacx Neo then take a look here.

The Verdict
Overall, we would have to say that the Tacx Neo is the winner out of the two. However, it all comes down to what you are looking for in a turbo trainer personally. Carefully compare the two models here and see which one is able to offer you the most benefits.