Tacx Flux 2 Smart Turbo Trainer Review – Up to 2000w of Resistance
If you are a keen cyclist and you have used a turbo trainer before then you will have definitely be aware of which brands are worth your money and which are not. One of the brands that has a solid reputation is Tacx.
Tacx has a range of different turbo trainers on the market right now. In order to find one that works best for you, you will need to compare and contrast the different features. This is where we are able to help.
We have tested as many turbo trainers as we can so that we can give you a better idea of what each one has to offer. Today we are going to be bringing you a Tacx Flux 2 Smart Turbo Trainer review. Please carry on reading for our verdict.
Features: 2000w Resistance – Max 16% Incline – <2.5% Power Accuracy – Measures Cadence, Speed & Power – 7.6kg Flywheel – 64.2 x 67 x 46 cm – 23.8kg
Pros:
This turbo trainer is very easy to set up.
The frame is very stable when in use.
It boasts up to 2000w resistance so varying intensity is easy.
The maximum incline is 16% which is also good for variety.
It offers a fantastic real ride feel.
This turbo trainer is very quiet when in use.
Cons:
The trainer unfortunately cannot be folded.
It needs to be plugged into an external power source.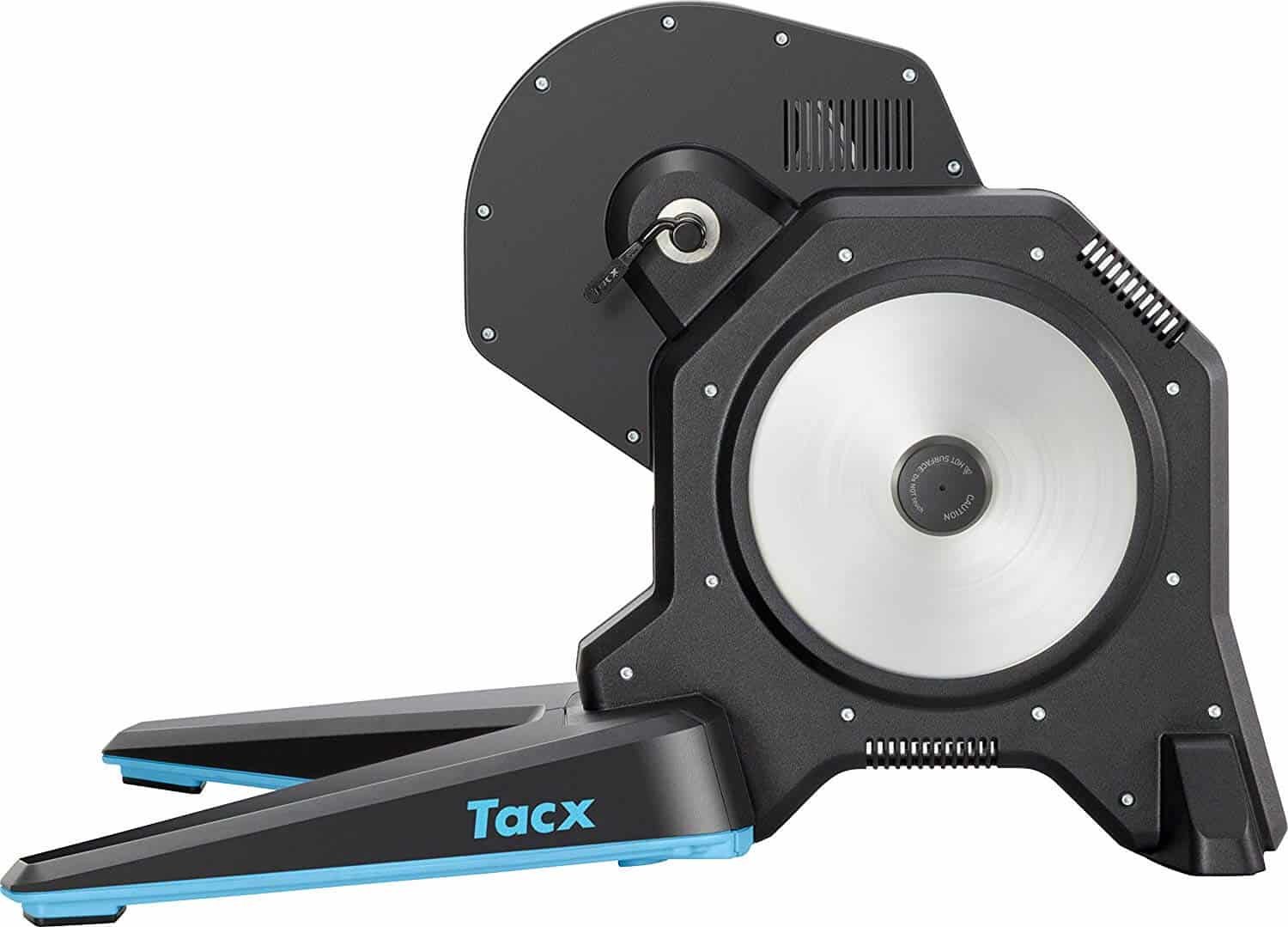 The Tacx Flux 2 Smart Turbo Trainer Review
Before we would test out the Tacx Flux 2 Smart Turbo Trainer, we first needed to get everything assembled and properly set up. Fortunately, we had this all done in under 30 minutes and we were ready to go.
The first thing that we had to do was mount the bike. Again, this was surprisingly simple. Once we were on the bike, it was very clear to see how stable the frame of this turbo trainer is.
Once we started our workout, we tried to get to the maximum resistance of 2000w. We managed to do this and we found it really helped to vary the intensity of the workout.
Another thing that we found really helpful for varying the intensity of our workout was the 16% incline. After we had spend some time using the turbo trainer, the one thing that we really liked was the real road feel. It was incredibly accurate.
As a final plus point, the Tacx Flux 2 Smart Turbo Trainer is virtually silent when it is being used. Of course, there were some negative aspects that we should mention. First of all, this trainer cannot be folded so storage may be difficult.
As well as this, we found it a little frustrating that the trainer has to be plugged into an external power source to get it to work. Other than this, we have to say that we were really pleased with this turbo trainer and we would absolutely recommend it.