Minoura Turbo Trainer Review
When it comes to turbo trainers, many people want a device that offers the customisation and resistance they require, yet still fits into a small home or storage area. The Minoura B60-R Trainer (learn more here!) is one such product offering exactly that.
For a reasonable cost, this trainer looks to offer plenty for both professional and amateur cyclists. Is the Minoura B60-R Trainer right for you? Let's take a better look at what it has to offer.
Main Features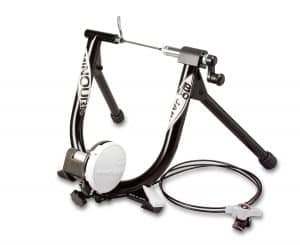 One of the biggest features for this device is its size, yet that doesn't mean there isn't anything else to consider. Indeed, the Minoura turbo is packed full of many noteworthy features, including:
This trainer offers resistance of up to 442 watts, which offers plenty of power.
Similarly, there are 7 levels of resistance, allowing you to adjust the training as you see fit.
A remote is fitted to your handlebars, allowing you to switch up resistance while exercising.
This is a very small trainer. Unfolded, the size is just 61 x 46 x 39cm. It will fit almost anywhere.
Better yet, it folds down for when you want to store it away. This offers a smaller size of 45 x 45 x 16 cm, making it even easier to fit into any home or storage area.
Given its small size, it's not surprising that this is a very light weight trainer yet, at only 6.2 kg, there are absolutely no problems lifting or moving this equipment.
As far as loads go, this trainer can take up to 120 kgs, including the bike, so there are no problems when it comes to weight tolerances.
This piece of equipment also fits a wide range of tyre sizes, including 24, 26 and 2 as well as 700c bike wheels.
A quick release skewer also allows easy dismounting when you're finished.
In short, don't let the small size of this device fool you. This device is designed to be easy to use, yet offer plenty of custom features to get the exact workout you need.

Using The Trainer
As already mentioned, the small size of the Minoura B60-R Trainer is one of its best features. This trainer will fit nearly anywhere and, even when folded out, doesn't take up much more room. As long as you can fit your bike, the trainer will be easily accommodated in any space.
Similarly, the set-up is simple. This trainer has a quick, effective folding mechanism, so opening it up and putting the bike in takes relatively no time at all. Dismounting is even quicker, thanks to a quick release skewer. This is fantastic when you've pushed yourself physically and don't want to spend more energy disassembling something.
As for the cycling itself, the resistance offered here is very good. At 442 watts, this is enough to offer a consistent, high level of resistance. However, the 7 levels are a worthwhile touch, as it allows you to use a level of resistance matching your physical capabilities.
Of course, the handlebar lever is a welcome touch, as it allows you to change things up mid-session. If you feel you can handle more, you just need to move the lever up and the trainer will offer more resistance. Likewise, you can move it down to lessen the pace and give yourself a break. The main benefit here is the fact you can do this without getting off the bike or interrupting your concentration.
Verdict
For its low asking price, the Minoura B60-R Trainer certainly offers a lot. New cyclists will appreciate the simplicity of the equipment, thanks to its fold-able design and simple controls during exercise itself. Similarly, more experienced athletes will appreciate a piece of exercise equipment that offers plenty of variance and adapts quickly to your needs. In this case, the Minoura B60-R Trainer easily fulfils both criteria.