Elite Turbo Trainer Review 2018 – 2019
| | | | | | |
| --- | --- | --- | --- | --- | --- |
| | Elite Novo Force | Use almost any bike, Elastogel to reduce noise, 5 resistance levels | Affordable | | Learn More Here! |
| | Elite Qubo | Fast clamping, 1.7 kg flywheel, Elastogel roller to reduce noise & tyre wear | Mid-Range | | Learn More Here! |
| | Elite Muin Fluid Trainer | Fluid technology for a quiet ride, strong & stable frame, 6kg flywheel | High-End | | Learn More Here! |
Best 3 Elite Trainer Reviewed
Sometimes you want something that is simple to use and set up in order to train, this is where the turbo trainers come in. When buying turbo trainers, otherwise known as bike trainers; you want to be wary of the trainers that make lots of noise and that are overpriced, so I will recommend the three that I believe stand out as being the best of The Elite line up!.
Elite Novo Force Turbo Trainer Review – Number 1!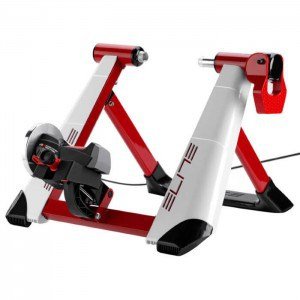 This is one of the most famous products on the market at the moment as it's renowned for its simple design and elegant execution in its function. The Elite Novo Force Turbo Trainer (learn more here!).
Many happy customers have remarked on the visual aesthetic of the Elite Novo Force Turbo Trainer, and it is undeniably one of it's main draws, but these features that follow also impressed me a great deal.
Novo Mag Enhanced Mag Force drive unit offers increased resistance and 700 gram heavier flywheel for a smoother ride Novo frame moves the resistance unit to the rear of the wheel, allowing the bike to be positioned closer to the ground, increasing stability and removing the need for a riser block.
Includes adaptors to allow the use of everything from a 24 inch BMX wheel to an MTB 29er.
The widest range of any Elite trainer Smooth and quiet magnetic resistance unit with 5 distinct levels of adjustment.
The magnetic resistance unit really impressed me, this was one of the quietest devices on the market.

Elite Qubo Power Pack Turbo Trainer Review- Number 2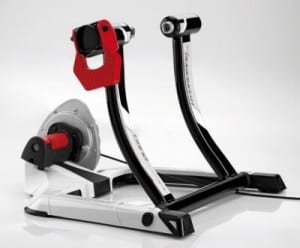 The second Turbo Trainer I'd recommend is the Elite Qubo Power Pack.
The Elite Qubo Power Pack Turbo is known for being the, "all rounder" in the turbo trainer market with a wide range of features and price in order to help it garner a fair amount of respect within the community.
Fast Fixing Clamping mechanism
Power magnetic resistance unit with large flywheel (1.7 kg)
Elastogel roller reduces noise by 50%, tire wear by 20% and increases tire grip
Wide compatibility: fits wheels with 20cm to 29cm diameters
The concept of Elastogel was completely new to me so the effects it had on the bike was particularly fascinating for me and I hope to look out for products that offer a similar feature in the future.

Elite Muin Fluid Trainer Review – Number 3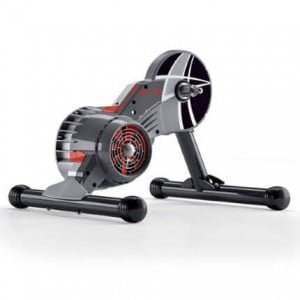 The final Turbo Trainer I'd recommend is the Elite Muin Fluid Trainer.
The Elite Muin Fluid Trainer is certainly a stunner, especially from a visual perspective. It looks like something out of a far flung sci-fi movie, so if you want to be seen using something really fancy and impressive, this is definitely the Turbo Trainer you'd want to be picking. The Turbo Trainer also has several other features.
A new concept in Elite trainers; by replacing the rear wheel entirely your cycle's drivetrain directly drives the heavy duty 197 mm and 6 kg flywheel, removing all chance of slippage.
The first direct mount trainer to utilise Elite's renowned fluid resistance technology for a smooth, strong and quiet ride experience.
Direct mount design, solid stable frame and maximum resistance of over 2000 Watts means this is the perfect trainer for powerful and aggressive riders looking to work on their intervals and accelerations.
You'd be hard pressed to find someone who would snub for using this fine piece of equipment.

Verdict
Each of these Turbo Trainers greatly vary in price and features, but the clear winner in my mind is no doubt the Elite Novo Force Turbo Trainer due to its remarkable price point and impressive feature set. With The Novo Force, you get a high quality trainer and you get it at a very attractive price!