Product
Top Choice
Great Value
Top Choice
Product
Great Value
Product
Product
---
Cycling is widely known as one of the best forms of exercise you can partake in, but sometimes due to unforeseen weather circumstances, it's not possible to go out. That's when turbo trainers save your life by allowing you to bring your workout indoors. We've listed our top 3 picks for turbo trainers which are compatible with Zwift, allowing you to step up your indoor cycling a notch higher, with the use of virtual reality.
Our #1 Pick: Tacx Unisex Neo 2 Smart Trainer
Tacx started off by designing humble bicycle parts out of passion for sports and leisure, and now they are producing cutting-edge new cycling technology with the assistance of AI and virtual reality.

Pros:
Interactive: This trainer is compatible with virtual reality consoles and softwares such as Kinomap, Trainer Road, Bkool and Zwift.
High Accuracy: Performance accuracy is enhanced with this trainer via the improved pedal stroke analytics (they can measure the exact position of your feet during activity!). In addition, there is a well-calibrated

contactless capacitive sensor

to measure cadence at a much higher accuracy level. 

Power Accuracy Measurement: To within 1%, in comparison to many other turbo trainers on the market which can range at around +/- 2.5%.

High Incline: This trainer allows you to simulate descent and ascent at 25%, allowing you to gain a fuller experience of an outdoor cycling workout within the comfort of your own home. Paired with sufficient resistance, this can prove to enhance your gains dramatically.
Silent: This turbo trainer is simply so quiet that you'll find your actual bike to be making more noise than the trainer itself. This is an uncommon and striking feature of this machine, as many users of turbo trainers complain about the amount of noise theirs makes.
Cons:
Complex Assembly: We found this trainer quite difficult to set up, but once done, it was well worth it. Make sure you have your biking tools at hand when setting this up, as you may need some specialist equipment to ensure you don't injure yourself with heavy parts.
Large: It's larger than many other turbo trainers we've tried and tested, which can be an issue for people short on space. That being said, it is perfectly suitable for use in your home gym, living room, a large bedroom or your garage – the living room was our go-to spot for using Zwift in conjuction with this trainer.
Our Verdict:
Appearance: 10/10

Functionality: 8/10

Value for Money: 9/10


Our #2 Pick: Elite Drivo II Direct Drive FE-C
ÉLITE's Drivo II is an upgrade from their Drivo I, the first of this stunning, cutting-edge fitness technology. With improved accuracy, device compatibilities and enhanced personalisation abilities, this turbo trainer earnt its place on this list.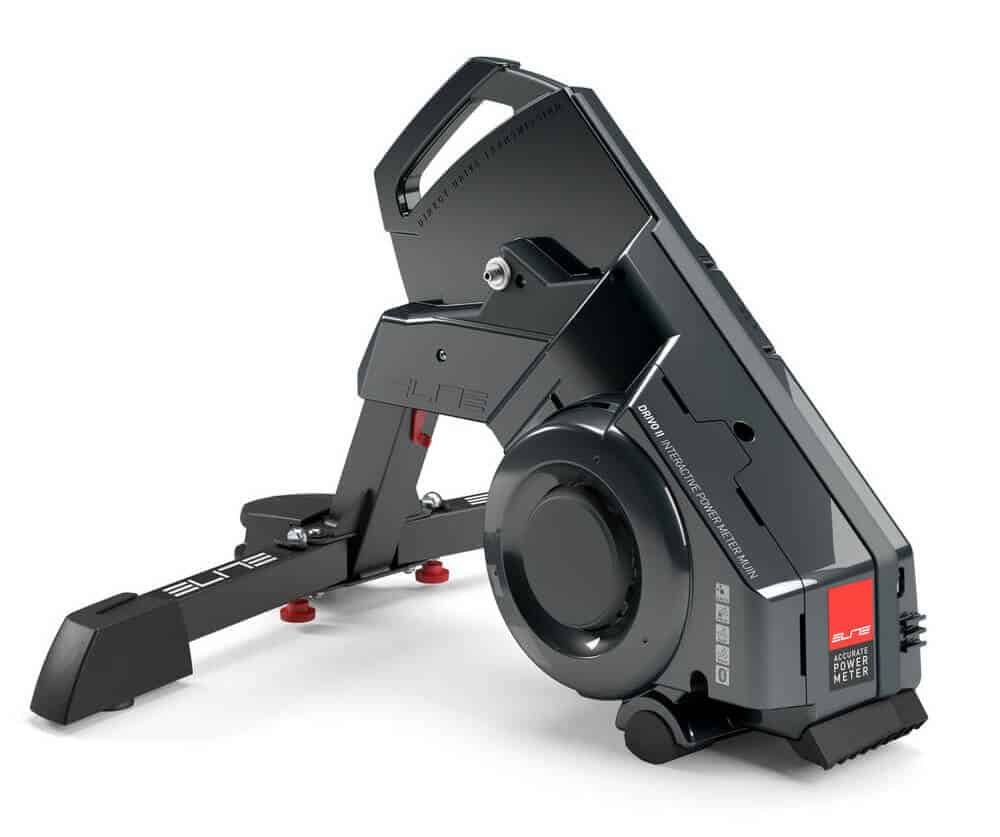 Pros:
Highly Accurate Measurement: Data accuracy is ensured by Optical Torque Sensor (OTS) at around +/- 0.5%, which is amongst the highest levels of accuracy we've observed in any turbo trainer we've seen or tried.
Greater Responsiveness: The built-in stepping motor allows you to adjust the preferred level of resistance almost instantaneously in order to provide you with an exciting, realistic experience in real-time.
An Upgrade: It is an upgraded version from the Drivo I, meaning it's got the latest technology and greater build-quality.
Interactive: The Drivo II is included among the newest line of ANT+™ FE-C & Bluetooth interactive domestic trainers which are featured as compatible with external applications, softwares, peripherals and devices (smartphones and tablets) with iOS, Android, MacOS and Windows operating systems.
Smart: As mentioned previously to be interactive and compatible to use with fitness softwares, the Drivo II tweaks resistance levels and manages your training session for you, almost as if you have your very own personal trainer with you the whole way.
Personalisable Experience: This turbo trainer can be controlled and is manageable through use of the "My E-Training" software or services such as Zwift, The Sufferfest, Bikevo and others.
Zwift Certified
Cons:
Industrial Appearance: While this trainer has its own charm with subtle streaks of red, it can look quite clunky and may not look great in your living room, depending on the theme. This trainer looks best in gym settings or other industrial environments where heavy-duty equipment is in use.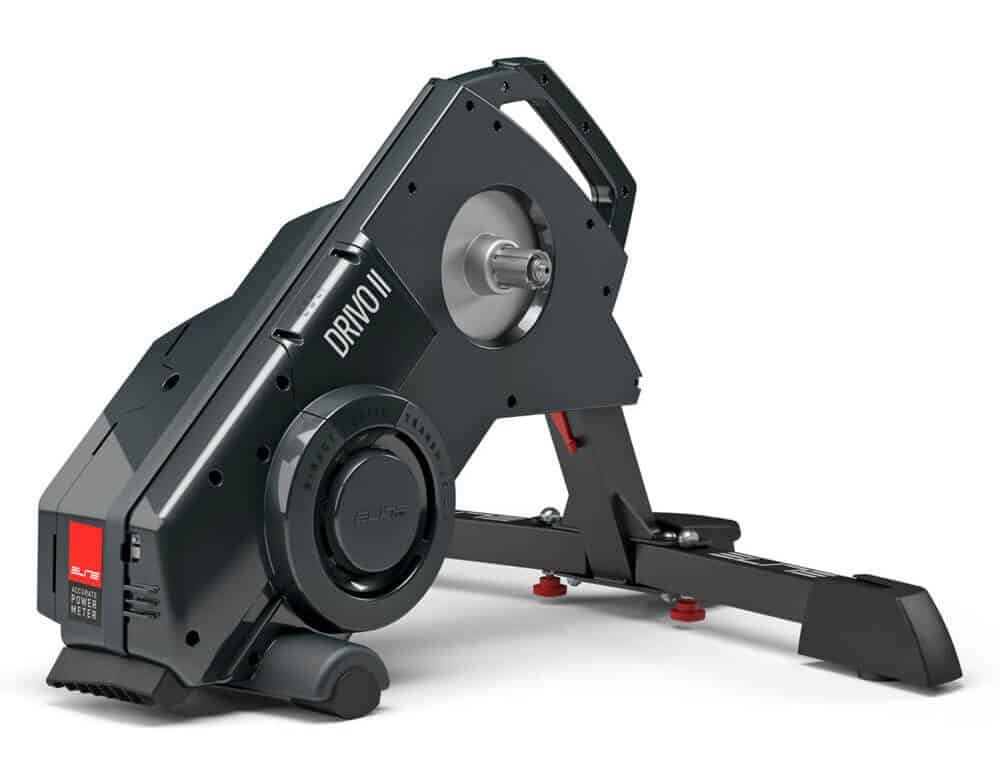 Our Verdict:
Appearance: 8/10

Functionality: 9/10

Value for Money: 8/10


Our #3 Pick: Velo Pro Magnetic Turbo Trainer
Velo Pro design a variety of different pieces of equipment, and their Magnetic Turbo trainer is one of their most innovative and highly functional designs till date. Produced in traditional chrome, this trainer is perfect for rainy days and bad weather conditions, allowing you to bring your work out indoors.
Pros:
6 Resistance Levels: With six levels of cycling resistance to choose from, you can personalise and optimise your fitness experience to suit your individual needs. This makes it ideal for use with VR console Zwift, for example, if you're travelling up a hill, adding resistance and incline can help simulate the real world surroundings well.
Versatile: This trainer is perfect for bicycles of wheel sizes 26″ to 700c, and is compatible with all sorts of bike types including road bikes, hybrid bikes and mountain bikes.

No Assembly Required: The turbo trainer arrives to your door fully assembled, simply unpack and start using it right away. There's no longer any hassle surrounding the spare parts and confusing manuals.
Portable: The collapsible design of this trainer allows it to

be easily folded for travel purposes. This means you no longer have to reserve a space for this fixture anymore, simply put it away into a storage box or garage when not in use. 

Safe and Supportive:

In the front wheel is a built-in support system to ensure you don't end up with any injuries during use.
Cons:
Noisy: Although this trainer claimed to be whisper-quiet via the use of their innovative magnetic rollers, we found it to be quite noisy. It's ideal for home-gyms or garages, or even in industrial or commercial environments.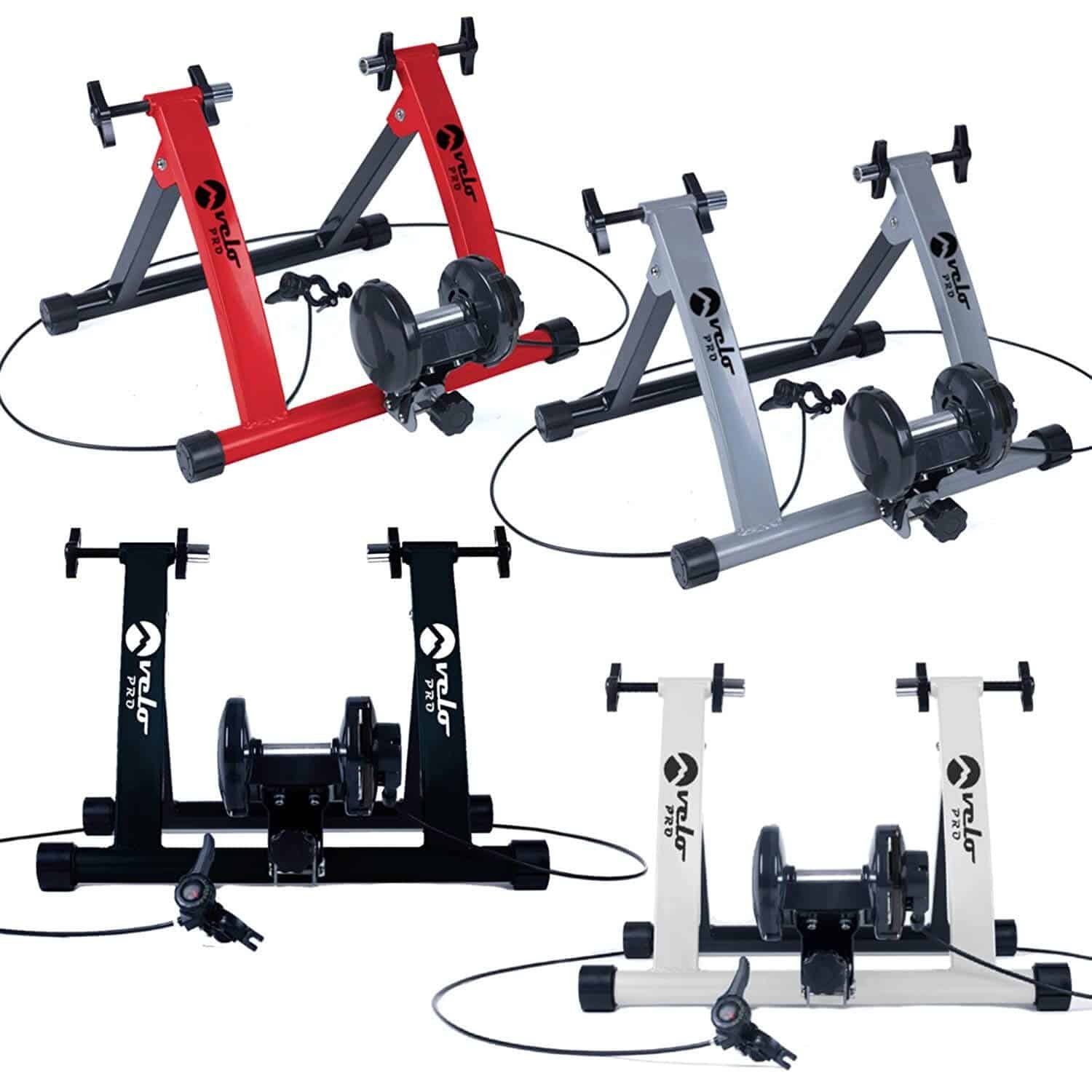 Our Verdict:
Appearance: 6/10

Functionality: 8/10

Value for Money: 8/10