With years of experience manufacturing bike parts, sports equipment and indoor trainers, Tacx's  innovative Neo 2 gives you as smooth of a ride as the name rolls of your tongue. Although pricey, we haven't once regretted the purchase; the stylish design and versatile functionality makes this trainer the perfect next fixture to welcome into your home fitness regime. This is the latest model of the Neo line, making this trainer the pinnacle of indoor workouts.
Main Features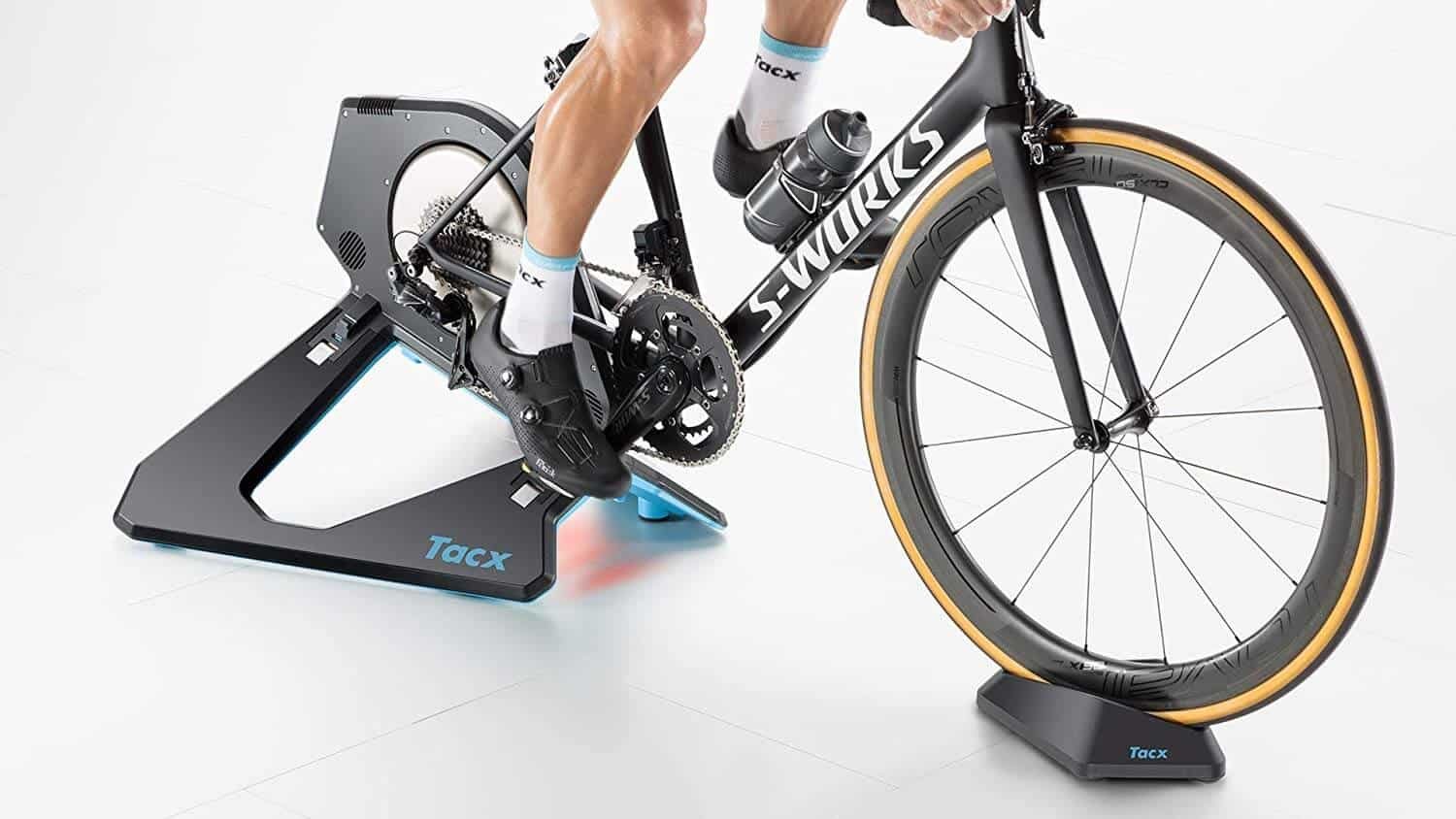 Self-Powered: With NO POWER REQUIRED, the star feature of this trainer has to be the fact that it requires no external power source to make it function. You simply attach your bike and cycle away. However, if you wish to enable the descent simulation, you will have to connect it to an external power source or mains. Otherwise, this is a planet-friendly fixture, giving you a guilt-free and healthy addition to your fitness lifestyle.
Natural: Although this indoor trainer features a completely stable design, the main stabiliser of the product can tilt a few degrees left and right- this gives you a truly natural feel when using your bike indoors. We never real cycle completely streamline, we always tend to shift our body side to side a bit, and this turbo trainer facilitates your natural body movements to deliver a delightful and natural ride.
Road Feel: This turbo trainer is designed to be able to simulate various road surfaces including the bumpy ride on cobblestones, sharp gravel, a freshly-tarred road and many other surfaces. This allows you to truly bring your regular cycling workout indoors- you'll barely feel the difference!
Compatible with Third-party Softwares: This interactive trainer is built with the ability to be used with Virtual Reality consoles and fitness tracking softwares such as Tacx Films, Zwift, Kinomap, Trainer Road and Bkool. This enables you to personalise and optimise your workouts to its maximum ability.
Pedal Stroke Analysis: One of this product's best features is the amount of accuracy it has; of +/-1%. This turbo trainer has all of its previous models functionality -enhanced. The Neo 2 can track the exact position of your left and right leg to deliver feedback and tracking with maximum accuracy and precision.
25% Incline: We were able to simulate something as monumental as cycling up a rocky mountain using this turbo trainer, especially when we paired it with Zwift. You can set the incline angle to as high as 25%, which is greater than most trainers we've tested.
Descent Simulation: The thrill achieved when accelerating down a steep hill can be perfectly simulated via the use of this turbo trainer. When paired with a compatible virtual reality console, this can materialise an exhilarating outdoor trip within the comfort of your own home. To simulate an outdoor breeze, we recommend the use of a floor-fan; not only will this cool you down and maintain your endurance, it will create a realistic outdoor effect. Check out our recommended Top 3 Fans for Turbo Trainers.
Cadence Sensor: Now the Neo range has improved accuracy of cadence measurement with a contactless capacitive sensor. Enjoy a greater experience with your indoor trainer featuring the latest cutting-edge technology.
Additional Axles: With purchase, the Neo 2 arrives with additional axle adapters thus significantly increasing its axle compatibility. Straight upon removal from the box, this trainer is compatible with 142 x 12mm and 148 x 12mm axles.
Whisper-Quiet: During use, this indoor trainer successfully manages to remain completely stationary. This eliminates the annoying rattling sounds most of these products on the market make. You don't need to worry now if you live above neighbours or live with other people in the house, or have hard floors. You won't experience any obnoxious vibrations; simply a smooth, silent ride.
---

General Information
Electrical Requirements: 110-240V
Suitable Cassettes: Shimano & SRAM: 8 – 11 speed, Campagnolo, SRAM XD and XD-R – Not suitable for Specialized SCS system
Maximum Power: 2200W
Descent Simulation? Yes
Weight: 21.5kg
Height: 55cm
Accuracy: <1%
Critical Review- The Downsides
When we used this trainer, we were in love with pretty much every aspect of it: the appearance, the extensive functionality and sturdy build quality. The one thing we have to point out about this product is that the Tacx desktop app (which is where you are able to see your pedal feedback analysis) isn't as informative as we like. It isn't as thorough and comprehensive as most gym cycling machines we use, which can be annoying for people if they are looking to use this turbo trainer as a means to stop using the gym machines. While this trainer can bring a heap of benefits, if you're searching for a highly informative feedback machine, this trainer may not be able to fulful your wish.
The Final Verdict
We haven't once regretted our purchase when using this machine, and we're very sure you won't either. The trainer is resistant to scratches, scuffs, dents and damage -meaning the machine has great longevity and will stay with you for a large period of time in great condition. The build quality is amazing, with high quality materials used and no loose parts. The winning features of this machine have to be the natural feel and improved accuracy -when testing out most trainers, none seemed to stun us as much as this one. Our final ratings for this indoor trainer follow as:
Appearance: 10/10

Functionality: 8/10

Value for Money: 9/10
Tacx Neo 2 Smart Trainer
Can be controlled using software developed by third parties including Kinomap, Trainer Road, Zwift and Bkool
True direct drive meaning no physical transmission
Powerful motor delivers resistance of up to 2200 W. Simulates slopes up to 25%
Communicates using ANT+ and Bluetooth smart for easy connection
Mass inertia 125 kg. Flywheel effect: Variable to 125 kg (275.6 lbs)