Elite Arion Digital Smart Roller Review – A Good Mid Range Model
If you are looking for a new turbo trainer or bike roller then you will undoubtedly find yourself struggling to choose the best model for your needs. This is no surprise when you consider the sheer amount of models that are available right now.
Fortunately, we are able to cut your workload drastically. We have tested as many turbo trainers and bike rollers as we can so that we can help you to compare all of the options that are available to you. Below you will find our Elite Arion Digital Smart Roller Review.
Features: Magnetic Resistance – Maximum 6% Incline – Measures Speed, Cadence & Power – Bluetooth – 80 x 60 x 35 cm – 12.6kg
Pros:
Really nice lightweight frame which is great for portability.
This bike roller is very easy to use.
The Elite Arion is remarkably quiet when it is in use.
The real road feel is remarkably accurate.
Cons:
The frame could perhaps be a little more robust.
The power measurement could be a little more accurate.
The Elite Arion Digital Smart Roller Review
Out of all of the models of bike rollers that we have tested and reviewed in the past, this is one of the few brands that we hadn't actually heard of. Given the fairly expensive price tag, we expected to be quite impressed with this bike roller and we definitely were.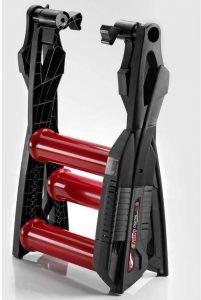 The first thing that we would like to talk about with the Elite Arion Digital Smart Roller is the frame. What instantly struck us was how lightweight it is. We were able to move it around with ease meaning that we were not limited in the slightest with the amount of places that we were able to use it.
The only thing that we will say about the frame is that it could perhaps be a little more robust. Using this bike roller was no trouble at all. It is perfect for beginners and experts alike. One thing that really surprised us was how quiet it is when it is being used.
This bike roller measures cadence, speed and power. We found that the cadence and speed measurements were quite accurate, but we did have a little difficulty with the accuracy of the power readings which was a little frustrating.
We also were a little disappointed by the incline. The maximum incline is only 6%, which is quite limited in comparison to what we are used to. However, we did really enjoy the real road feel that this bike roller offers.
Overall, we were relatively happy with the Elite Arion Digital Smart Roller. Yes, it does have it's downsides. However, for the most part we were really happy with this model and felt that it is a great mid range option, especially for the beginner.
Elite Arion Digital Smart Rollers Indoor Home Bike Cycling Training Foldable
Total interaction with app, software and devices with ANT+ (FE-C trainers) and Bluetooth Smart protocol
Magnetic Resistance unit electronically controlled
Slope simulations up to 6%
Sends speed/cadence and power data to compatible ANT+ and Bluetooth Smart devices and app
International products have separate terms, are sold from abroad and may differ from local products, including fit, age ratings, and language of product, labeling or instructions.
/]