Tacx Vortex Interactive Smart Trainer Review
Turbo training allows you to use your bike indoors but, to do this, you need the right turbo trainer. There are many on the market right now, but few stand out as much as the Tacx Vortex Interactive Smart Trainer (learn more here!).
This device has numerous features and plenty of appeal. Combined with an affordable asking price, this is a device that is well worth considering. Here's a closer, in-depth look to help you make up your mind.
Main Features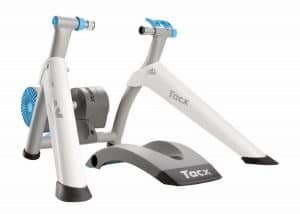 The sheer abundance of features makes this a very appealing turbo trainer. Not everything is needed, but this simply allows riders to fine-tune their experience to suit their needs. Let's take a look at this product's unique offerings:
The electro resistance offers a great level of resistance, allowing you to get an effective workout when you cycle.
Because the brake – which uses a combination of magnets and electro magnets – can be finely controlled, it can also generate a realistic incline effect, with 'slopes' up to 7%.
Can be connected to various devices, such as tablets, smart phones, computers and laptops, for use with various Tacx Cycling apps.
Rather than dealing with cables, the bluetooth feature allows you to use your phone or tablet through wireless connections for more comfortable use.
If you want to a harder workout, this trainer has a maximum brake power of 950 watts. While this only lasts for ten seconds, it's more than enough power for most exercise sessions.
In terms of physical size, this piece of equipment has a dimensional frame of 59.9 x 50.5 x 19 cm, making it smaller than you might think.
Similarly, it only weighs 11 kg, so it's never too much hassle to pick this item up to use or put away.
All in all, there are plenty of features to help you control the exact experience you get out of this trainer. While you can simple attach your bike and go, the modern innovations here allow for greater interaction.

Using The Trainer
Using the Tacx Vortex Interactive Smart Trainer is relatively simple, since the device is designed to be used quickly and effortlessly. This is, in part, helped by its small and lightweight design. Once your bike is ready, you can simply start cycling. If you prefer, you can better customise your settings to get the results you want.
This is where the digital offerings really enhance the experience. You don't need to use any software at all to enjoy this product, but being able to see your virtual speed, chart your progress and use any of the other available apps is a big benefit. This allows you to record your results over time, which will appeal to people who are serious about their fitness.
Likewise, the bluetooth feature is a nice touch that is more practical than you might realise. If you have a portable device that you want to use, this ensures there are no unnecessary wires getting in-between you and the vehicle.
As for using the product itself, the electro brakes really stand out. If you've used a trainer before, these magnetic brakes will feel familiar, but the electro brakes allow the trainer to be more accurately and smoothly controlled. Want to transition into a slope? This device lets you do that without any awkward, noticeable shifts. When you're in the zone and want to keep on pushing yourself, this helps create the natural conditions and environment you're likely to encounter outside.
Verdict
In summary, the Tacx Vortex Interactive Smart Trainer is a turbo trainer that offers plenty of value. Beginners will find it easy to use, while experienced athletes and cyclists will find there are plenty of options to enable them to train in the way they are use to. This ensures that the Vortex Interactive represents a long term product, as you can get use out of this for many years to come.